Environmental Justice
April 12, 7 PM
Register at Schaumburg Library
Virtual Presentation
---
---
AAUW Applauds Paycheck Fairness Act Introduction in Congress
AAUW Applauds Paycheck Fairness Act Introduction in Congress
The Paycheck Fairness Act is sponsored by Rep. Rosa DeLauro (D-CT) and Sen. Patty Murray (D-WA). The bill is bipartisan in the House of Representatives and co-sponsored by every Democrat in both the House and Senate. (A version of the bill was first introduced in 1997.) The Paycheck Fairness Act is also an important complement to the Lilly Ledbetter Fair Pay Act of 2009, which ensures that ongoing pay discrimination at work can be challenged regardless of when the discrimination began. That act was signed into law 10 years ago on January 29, 2009.
Read More.
---
Fight For Fair Pay
---
Congratulations to AAUW's 2018-19 Fellowship and Grants  Awardees!
The 2018–19 award year kicked off with the release of our updated online Fellowships and Grants directory in which you can find out more about the remarkable women and organizations from your area! To learn more about AAUW's fellowships and grants programs and past awardees, visit our fellowships and grants web page and read our Following the Fellows blog series.
AAUW Issues: Federal Judicial Nominations
AAUW's Public Policy Priorities supports "a fair, balanced, and independent judiciary" to ensure constitutional protection for the civil rights of all individuals. Federal courts up to and including the Supreme Court are often also the last, best hope for women who have experienced discrimination in education, employment, health care, and other aspects of their lives.
---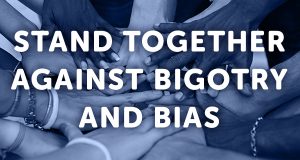 AAUW members and supporters stand up to bias and bigotry. AAUW's voice is needed now more than ever.
We need your support to fight against unequal representation of women in business and government, discrimination and harassment in the workplace and on campus, the gender pay gap, and more.